Precision Plastic Injection Limited was established in 1992 in Hong Kong. With three years continuous effort, in July 1995, we maintain the headquarters office in Hong Kong for general operation and moved the production line to Longguan of Shenzhen with area of 7,000m2. As to meet the expansion of our business, we build up our 17,000m2 own building and moved in the factory in December 1997.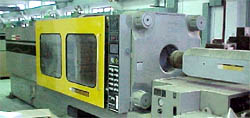 We have complete injection machinery from 16 tons to 1,600 tons. Our injection products are widely being used on telecommunication products, OA products and various electronic accessories. Our raw materials are mainly come from Japan and USA etc. We are able to produce the products of ABS, HIPS, PMMA, PC, POM, PBT, PPO and PET etc. We have different production lines to handle the process of spray, silk-screen and UV printing to match the demand of market.
Engineering Department is providing technical support and monitors the operation of Tooling Department. With our engineering know-how and advanced machinery such as CNN measurement, we guarantee the precise of our injection parts. Our Tooling Department is able to produce various sizes and types of mould for printer, copier, fax, telephone, calculator, remote and electronic accessories etc.
With the implementation of ISO9001 system and our continuous effort to fulfill customer's needs, we have confidence to provide you quality product at a competitive price.



| | |
| --- | --- |
| Company Name | Precision Plastic Injection Limited |
Address

Unit6,10/F.,Technology Plaza,
No.29-35 Sha Tsui Road,Tsuen Wan,N.T.,Hong Kong.
| | |
| --- | --- |
| Incorporated | March 10, 1992 |
| | |
| --- | --- |
| Capital | HK$2,000,000.- (Two Million) |
| | |
| --- | --- |
| Turnover | HK$120,000,000.- (1999-2000) |
Type of Business

Plastic injection
Specified in production of precision parts
| | |
| --- | --- |
| Type of Products | Plastic parts mainly for O.A. and telecommunication equipment. |
| | |
| --- | --- |
| Quality Control | ISO 9001 File No. A8147 - May, 1999 |
| | |
| --- | --- |
| Facilities | 465m2 Main office & warehouse |
| | |
| --- | --- |
| Major Customs | |
| | |
| --- | --- |
| Sales Distribution | |